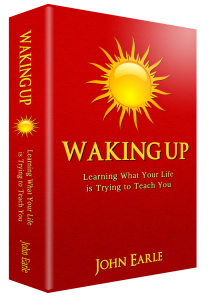 Using four, powerful but simple strategies, learn what the challenging stories in your life are trying to teach you.
With this self knowledge, and the application of perennial wisdom, you can use a few, simple but profound daily practices to create more harmony and love in your life and in the lives of everyone around you.
What People Are Saying About Waking Up!
"The difference in my existence before reading this book and in where I am today after applying its wisdom and guidance is staggering in a beautiful way." – James C
"Waking Up is the best kind of spiritual growth book: understandable, practical, and entertaining." – GB
"Waking Up, is written in such a clear, concise manner that it is both powerful and enjoyable to read. John Earle presents this incredibly valuable material in a way that keeps the reader excited to go on, to learn more and to work to become more conscious."    – Arthur R
" John Earle's Waking Up has earned a place on the top shelf of my bookcase, right between Joseph Murphy's Power of the Subconscious Mind and Eckart Tolle's Power of Now and A New Earth because of the powerful and practical methods it provides for opening the heart and raising consciousness. I've made Waking Up my morning reading habit….both literally and figuratively. It is at the top of my recommended reading list to those I care about."  – Penny R            
"This is a very good book for anyone interested in learning how to speak their truth without fear. Couples should read Waking Up together."   – Adam A
"Put this soul-opening book in your reading collection of Wisdom words and refer to it often. Every chapter will bring a new and different understanding of what life is trying to tell you."   – Sewil
"This book is a gem. It offers a clean, fresh approach to discovering what our life can teach us. Its format is clear and straightforward, and it doesn't require special training."                                                                                  – Marni Y
Click Here  for more reviews.